Chickens
At Westwood, we believe that working with animals provides unique opportunities for learning. Our school hens not only offer fantastic educational benefits to our children, but also the unique opportunity to teach responsible pet ownership and model best practice in animal welfare. During their time at Westwood, the children are able to take on and help with the responsibility of caring for all the needs of our hens.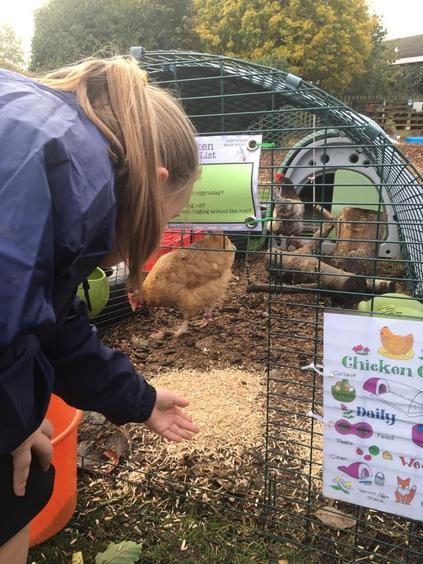 The children help to keep the hens busy in the coop in order to stop them becoming too bored during the times that they are unable to roam free. They keep an eye on the water glug and food grub bowls ensuring our hens are never without either. The children demonstrate many of our school learning behaviours even when undertaking the not so enjoyable jobs, such as cleaning out the messy and often smelly coop! The children take turns to collect the eggs. These often go to Miss Peck for the children at breakfast club to enjoy.
Our hens are proving to be very affectionate; if you sit still for too long you will soon find one wants to nestle in your lap. Our hens are becoming a very good listening ear. If you are a little bit worried about saying something or just want to practise speaking out loud, the hens make the perfect first audience.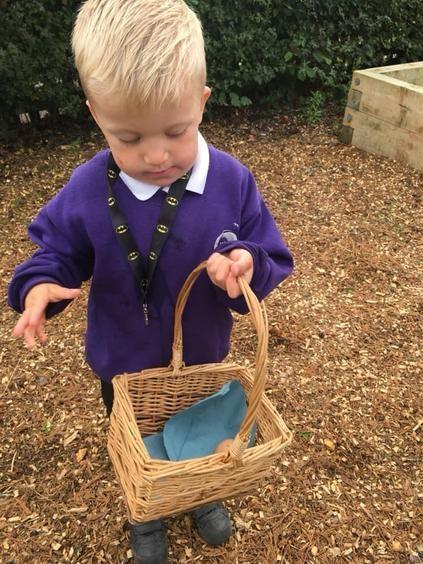 In the same way, the hens also provide a great ear to practice reading out loud. They are not critical, they don't mind how fast or slow a person reads or if a mistake is made.
They seem to truly enjoy the act of listening to the sound of the reader. Children can frequently been seen around the coop, often sharing a quiet story or two. Children build their confidence around handling animals and are able to demonstrate and share this with friends.
If you are feeling lonely or just can't find your friends, the garden can be a safe space to come and spend some quiet time or a place to come and make some new friends. We have found out that feathered friends make the best friends! It's a scientifically proven fact that stroking an animal can help your body release the relaxation hormone. Our happy hens are more than accommodating and will allow much petting and stroking.
Training the hens to do tricks brings many smiles and giggles to the garden. The children find that the hens will do almost anything for a yummy juicy treat. Learning the differences between the breeds of hen has been a wonderful experience. An exciting time in the school year is when our incubated eggs arrive.
Watching the hatching of the chick is a beautiful experience that many of our children have seen.
All our chicks are grown on and go onto to new homes as family pets or breeding birds and some go onto become prize winning show birds at local and national level.